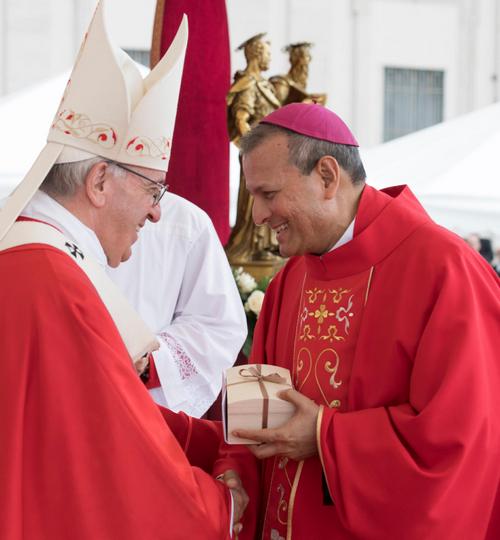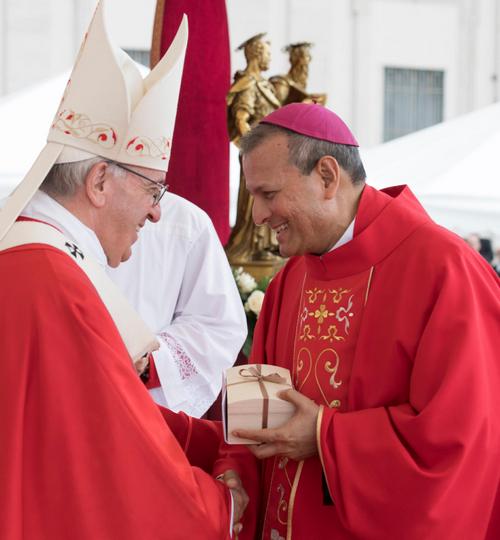 Newly-appointed Metropolitan Archbishops from around the world including His Grace Most. Rev. Dr. Joseph Kalathiparambil, the Archbishop of Verapoly received the traditional woolen vestment called Pallium during a special Mass with Pope Francis on Thursday, 29th June 2017.  The Pallium is a stole made from white wool and adorned with six black silk crosses. The wearing of the Pallium by the Pope and Metropolitan Archbishops symbolizes authority as well as unity with the Holy See.

One significant thing about the Pallium is the symbolism found in how it is worn: around the shoulders. It shows "the obligation of the bishop to look for the one who's lost, and carry that one back on his shoulders" . It is traditional for the Pope to bestow the stole on new archbishops June 29 each year. The rite is a sign of communion with the See of Peter. It also serves as a symbol of the metropolitan archbishop's jurisdiction in his own diocese as well as the other dioceses within his ecclesiastical province.

Metropolitan Archbishops will no longer receive the Pallium at a formal ceremony in Rome following a decision by Pope Francis. The Pope has decided that each newly-appointed Metropolitan Archbishops should be formally vested at a ceremony held in their own archdiocese, by the Apostolic Nuncio, replacing the tradition of the pontiff presenting the Pallium on the Feast of St Peter and St Paul in Rome.
https://verapoly.in/wp-content/uploads/2017/07/07403_29062017-1.jpg
540
500
Web Admin
https://verapoly.in/wp-content/uploads/2022/02/cropped-logo-verapoly-curvev-180x180.png
Web Admin
2017-07-11 10:42:03
2017-07-11 10:42:03
Archbishop Joseph Kalathiparambil received the Pallium from Pope Francis